Groundwater Country Music Festival 2019
Groundwater Country Music Festival is returning for its 7th year with a bumper line-up including reigning King and Queen of Australian Country Music Lee Kernaghan and Beccy Cole and the big winners at the 2019 Golden Guitars, The Wolfe Brothers plus the cream of the crop of the Australian country music scene.
Groundwater is Australia's fastest growing music festival and last week it was announced the event has been elevated to 'major status' by Tourism and Events Queensland (TEQ) due to its importance to Queensland's economy and significant growth in generating visitation to the Gold Coast. The popularity of the country music genre is at an all-time high in Australia, reflected in the enormous growth of Groundwater and the broad cross section of age groups attending the festival.
Assistant Tourism Industry Development Minister Meaghan Scanlon said TEQ had upgraded the festival's status after the 2018 edition generated more than $5 million for the state's economy – a 25 per cent increase from 2017.
"Since the event's inception in 2013, it's grown from strength-to-strength. Last year more than 63,000 people attended the event, generating nearly 30,000 visitor nights for the Gold Coast," she said.
This FREE festival will be held July 26-28 in Broadbeach on the stunning Gold Coast through its bars, restaurants, streets and parks. There will be more than 110 incredible live music performances with over 130 hours of free live entertainment. Click here to view the 2019 Groundwater sizzle reel.
Groundwater is proud to present a phenomenal first line-up which is heaven for long-standing country music enthusiasts and those only just starting to discover one of the world's most popular genres of music.
*****************************************************
***Update as at May 11, 2019***
Groundwater Country Music Festival has announced its second line-up which will see US country-rockers Davisson Brothers Band and local Gold-Coast talent such as Casey Barnes join an already impressive line-up including Lee Kernaghan, Beccy Cole and The Wolfe Brothers.
The family-friendly event will be held on the Gold Coast on July 26-28 where nearly 50 acts will perform across 15 stages throughout Broadbeach's bars, restaurants, streets and parks, allowing you to sit down and relax while listening to some of the biggest names in country music perform. It's free to attend!
Groundwater is proud to add such a wide variety of top shelf country artists to its 2019 line-up including…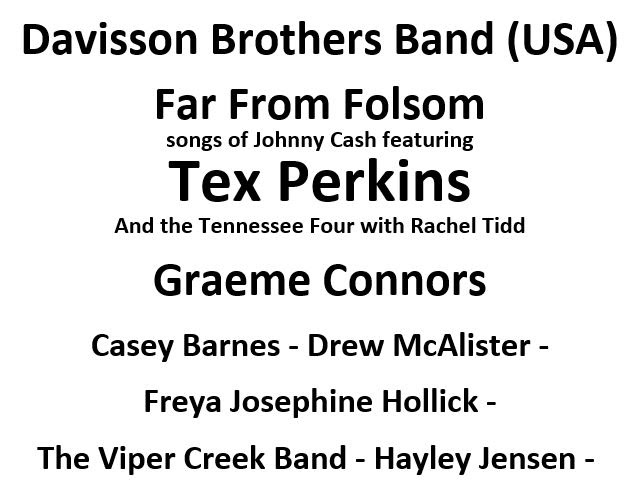 "Groundwater will continue to give country music the respect it deserves , paying tribute to classic moments in the genre's history with The Songs of Johnny Cash, celebrating story tellers like Graeme Connors and Drew McAlister, encouraging breaking acts and welcoming international guests like the Davisson Brothers Band to join the party…It's going to be a big year," said Festival Director Mark Duckworth.
Hailing from the hills of West Virginia and headlining this second announcement is the Davisson Brothers Band, who will wow Groundwater audiences with their authentic and passionate country rock music. The four-piece band hugely impressed Australian fans last year and Groundwater is thrilled to include them in their 2019 line-up. With thousands of shows under their belt, the Davisson Brothers Band's incredible high energy shows have found a new home away home in Australia.
Far From Folsom songs of Johnny Cash featuring Tex Perkins and the Tennessee Four with Rachel Tidd is another unmissable act that will perform at Groundwater this year. Best-known for fronting The Cruel Sea, Beasts of Bourbon, Tex, Don & Charlie and The Dark Horses, Tex Perkins will provide a fast-paced, turbo-charged incarnation of Johnny Cash's famous prison performances. His humour, humanity and grit build bridges between music genres, between prisoners, preachers and presidents, and has earned him the love and loyalty of generations of fans.
Joining these artists is Graeme Connors, one of Australia's most eclectic singer/songwriters who will tour regional Australia before bringing 'the backcountry' to the Gold Coast for his debut performance at Groundwater. With a career spanning over 40 years with 19 albums and 14 Golden Guitar awards, his passionate performances that combine his signature modern country sound with elements of rock, blues and roots are sure to resonate with fans.
"What better way to spend a weekend?" said Graeme Connors. "Sun, sand and the best Australian country music has to offer! I'm really looking forward to performing at Groundwater for the very first time."
Returning to Groundwater after playing at last year's festival is local Gold Coast country rocker Casey Barnes who was a 2018 Golden Guitar Finalist and has performed alongside international stars like Mariah Carey, Lady Antebellum and Bryan Adams. Casey has just returned from a hugely successful tour of the United States with performances in LA and Nashville along with shows in both Kansas City and South Dakota as part of the Professional Bull Riders''Unleash the Beast' arena tour. He also spent time in Nashville writing and recording tracks for his next studio album which saw him work with sought-after producer and fellow Aussie Matt Fell.
Another local Gold Coast act performing at Groundwater this year is emerging 22-year-old artist Chloe Styler whose unique and captivating voice has been compared to Lisa Mitchell and Julia Stone. Chloe performed as an opening act for Lee Kernaghan in 2017, was a Grand Finalist in the 39th Annual Toyota Star Maker competition in 2018 and a Queensland Music Award finalist this year. Influenced by Fleetwood Mac, Joni Mitchell, and Kacey Musgraves, Chloe is building a strong reputation and a variety of loyal fans who love her timeless sound.
With over 110 live music performances, more than 130 hours of free live entertainment, and unique artists that reflect such a wide array of the country music genre, this year's festival is sure to be one of the best yet.
Fly or drive and stay in the heart of Broadbeach with the festival right on your doorstep! There is a wide variety of accommodation options in the precinct from five-star hotels to self-contained apartments, satisfying all needs and budgets. Check out Broadbeach accommodation here.
Groundwater Country Music Festival is supported by the Queensland Government through Tourism and Events Queensland and features on the It's Live! in Queensland events calendar, worth $800m to the state's economy in 2019.
Your perfect next event is in Queensland, where live events combine with the most incredible destinations, and life is beautiful one day, perfect the next.
Click to view Groundwater's social media: Website and Facebook.