Single Release: Super Massive – I Like It
Super Massive has released a video for their infectiously-funky disco single 'I Like It' that is arguably the most entertaining Covid music video made since the start of the pandemic.
Different to the average music video, 'I Like It' is a slick four-minute docu-comedy and it's highly amusing, pushing the 70s vibe, risque spirit and humour in the song to the max.
Drummer/composer/producer Glenn Abbott, who regularly experienced semi-nudity and sexually provocative behaviour as a member of Machine Gun Fellatio, said "It's the closest thing Super Massive has done to something Machine Gun Fellatio might have done."
The band filmed the clip mostly at Abbott and Hamilton-Smith's home – a funky weatherboard beach shack in Kirra on the Gold Coast, complete with wild wallpaper and vintage 70s furnishings that were perfect for the song. Friends who performed on the recording were invited to film themselves Covid-style and send the footage to them.
Singer, Malina Hamilton-Smith said "We filmed most of the video at home during shutdown while the Queensland / New South Wales state border was closed. We had originally wanted to get everyone together for the video but we couldn't because we're on the Gold Coast while a lot of people who performed on the song are in Sydney, so we did what we could and invited them to film themselves on their phones and send it to us – like a lot of bands have had to do during lockdown."
"But we had a nagging feeling that we wanted it to be more than just a string of people dancing to the song, especially when the song has quite a strong narrative in the lyrics, so we were racking our brains for ideas, and then midway through shooting, this storyline evolved about a burnt-out psychiatrist specialising in sexual disorders and fetishes who is getting deeply affected by his clients, and that was our Lebowski's rug so to speak, that tied it all together and made it the entertaining videoclip we really wanted it to be."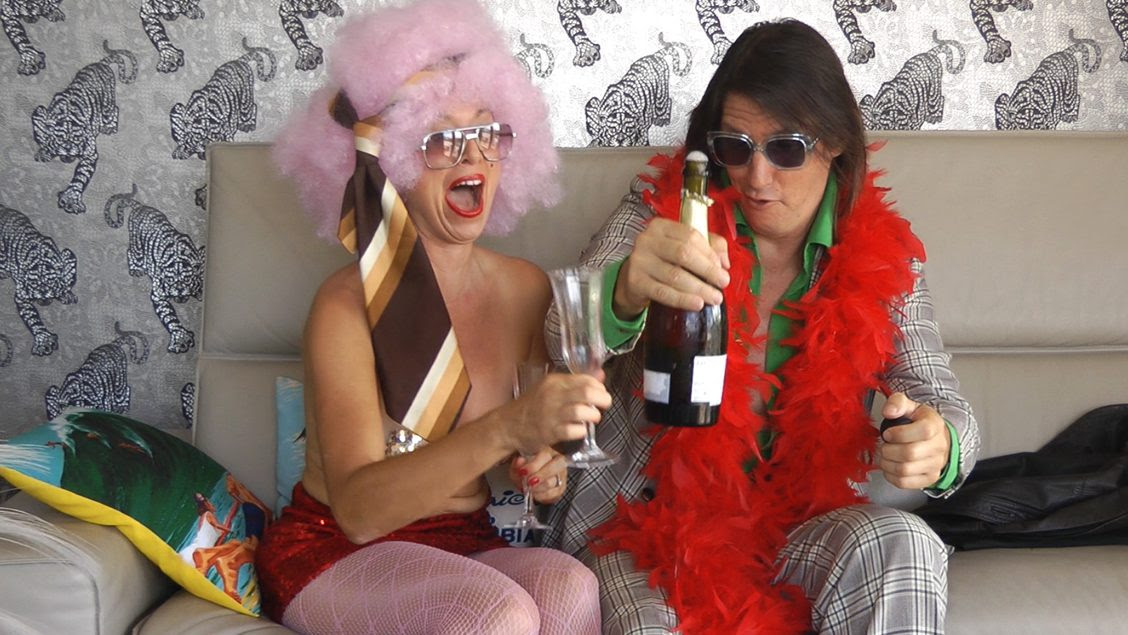 Abbott stars as the hilariously hapless psychiatrist having trouble containing his feelings towards his clients. The film follows a day in the doctor's life, as he sees his clients, intercut with the band playing in a frangipani-framed, outdoor disco of colourful lanterns.
Hamilton-Smith, who also currently co-stars in Flickerfest 2021 short film 'Pools", shows her comic chops with a double dose of the doctor's sexed-up clients – a showgirl with a feather-tickle fetish and a dangerously jealous nymphomaniac, whose philandering husband is played by current Super Massive guitarist, Tyr Kovacic, aka The Disco Jesus.
Abbott's former Machine Gun Fellatio bandmate LoveShark makes a cameo from his own home-made lounge-room disco as "the greatest disco-philiac since Disco Sally."
Former guitarist Marc Malouf – who played the guitar and sang the James Brown-style exclamations on the song – appears as a client with a cracking case of "funkolalia".
Former bass player, Daniel Bruce, who sang on the song, gives a performance you'd expect from Jack Black as a man with chronic "bass-ophilia" and rampant "Bootsy-ism", who unleashes the full thrust of his funkiness upon the psychiatrist to hysterical effect.
Hamilton-Smith filmed and edited the clip on her HD handicam and home computer. "It's been so much fun to do. I have never laughed as hard in my life as I have editing this clip. Dan and Marc sent us back a bunch of takes that made me laugh so hard my lungs were honestly burning. After that we had to up the ante on what we were filming of ourselves. Glenn, Tyr and I were in stitches filming our stuff. It was a lot of fun" Hamilton-Smith said.
"We hope it gives people a lift and a good laugh," Abbott said.
'I Like It' has been enjoying repeat play on many radio shows around the country. It has had play on nine different shows on 4ZZZ Brisbane and appeared in their Top 20 Chart in January. It's also had play on all the shows dedicated to Australian music, including The Local Gig on 94.1FM Gold Coast, Aussie Music Weekly, Living In The Land Of Oz, 100% Aussie Rock and Women Who Rock Oz to name a few, as well as Drive Time and Morning shows around the country from Radio Adelaide to Fraser Coast FM.
"I Like It" is out now through Bandcamp and all major online music distributors. The band has also put out a limited edition run of glittery Super Massive and I Like It underpants. A few pairs are still available in an assortment of colours and sizes on the band's Bandcamp.